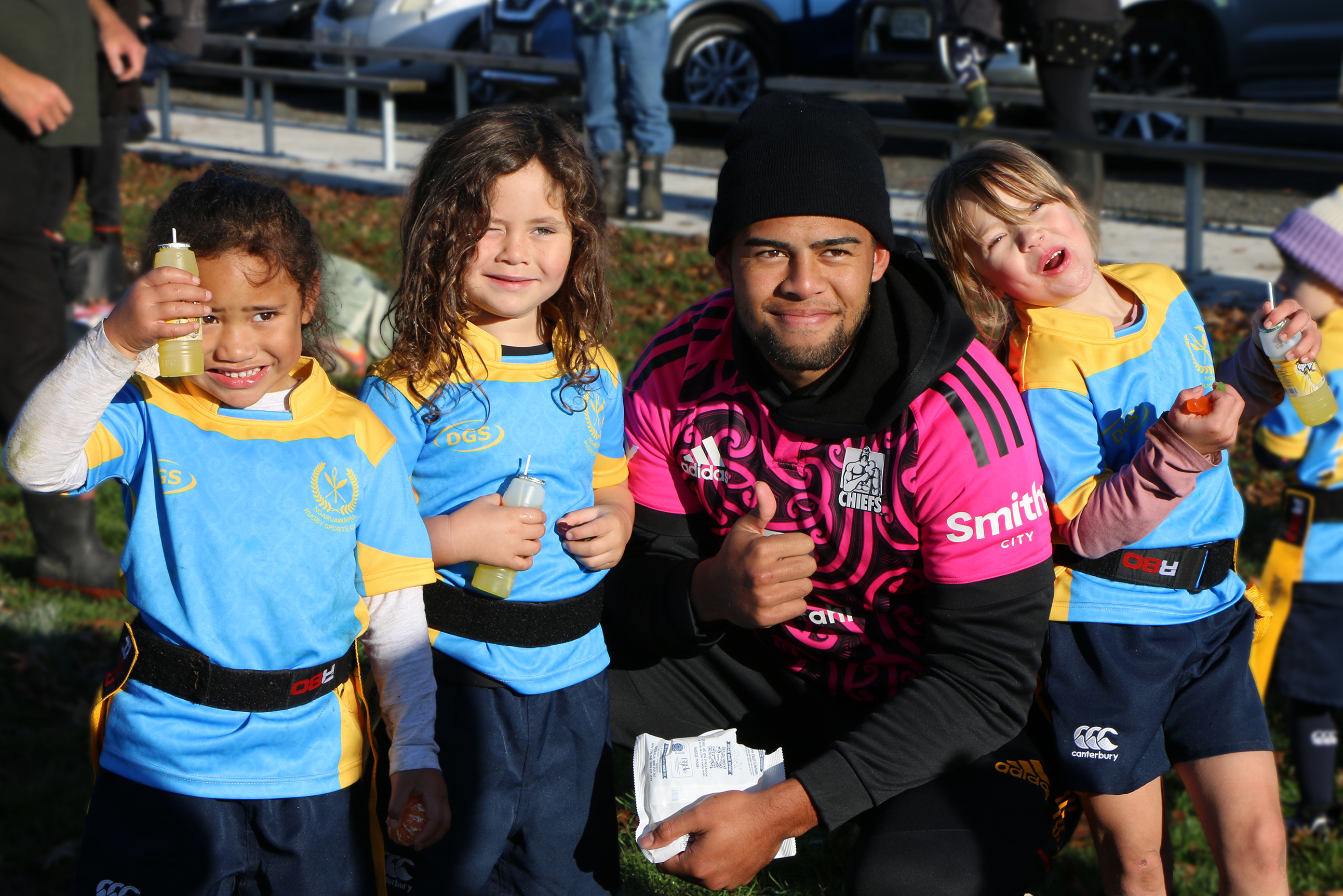 Junior rugby players from Ngaruawahia Rugby Sports Club had a special treat on Saturday when three Gallagher Chiefs players joined them for the morning.
The small community-based club beat dozens of other clubs from across Waikato Bay of Plenty, winning 50 tickets to the Gallagher Chiefs vs Western Force game and a visit from the Gallagher Chiefs to their rugby club. 
Gallagher Chiefs players Josh Lord, Gideon Wrampling and Sione Mafileo came along to the junior Saturday morning rugby to have a chat with the lucky kids, take some pics – and even help with the half-time oranges!  
"Tuatahi First Fibre is all about connecting people and communities, so we loved having the chance to connect grassroots rugby teams with their heroes from the Gallagher Chiefs," said Tuatahi First Fibre Chief Executive John Hanna.
"It was awesome to see the smiles on the kids' faces, getting inspired by their new mates. That's what it's all about!"
"Tuatahi First Fibre is all about connecting people and communities." 
– John Hanna , Tuatahi First Fibre Chief Executive
Ranging in age from just three to 12 years old, the junior players were excited about having their photos taken with their heroes.  
The kids were treated to pre-game and half-time motivational pep talks, warm-ups and even some on-field cameo appearances. 
Mike Collins, Chiefs CEO said "grassroots rugby is where the rugby journey begins and our players love to interact with these young players. Ngaruawahia Junior Rugby Club has such an impressive junior programme and we were incredibly privileged to be a part of their Saturday morning games thanks to Tuatahi." 
The players signed special Gallagher Chiefs flags and posters and gave the junior players Tuatahi First Fibre beanies, supporter noisemaker sticks and mini rugby balls. 
Club spokesperson Laura Millward said, "it was a real privilege to have the three players not only visit but truly engage with the kids and their whaanau. The kids made some great memories that have inspired the kids to keep loving the sport and our club."