Sponsorship
We believe strong communities are connected and stand together. That's why we allocate resources to support initiatives in our community that help make all our lives better. That's why we're very proud to support the Gallagher Chiefs.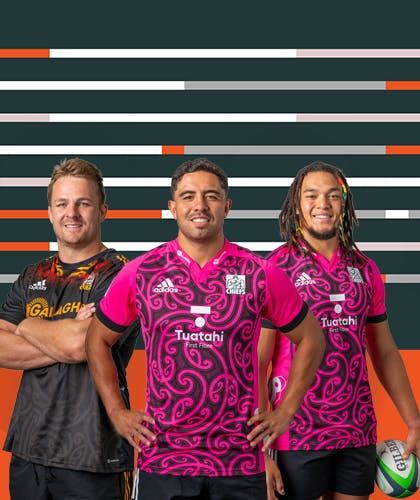 Gallagher Chiefs
Tuatahi First Fibre is partnering with the Chiefs Rugby Club as a major sponsor of the Gallagher Chiefs through till 2024. Tuatahi First Fibre is the official fibre broadband infrastructure network of the Chiefs Rugby Club and our logo is featured on the front of the 2022/23 Gallagher Chiefs Training Jersey.  
As a local company working at the heart of New Zealand communities, we're excited to support the Gallagher Chiefs as a major sponsor. There are some close synergies between our brands, so our partnership makes perfect sense. 
The Chiefs and Tuatahi First Fibre share a commitment to our region, an alignment of values, and an aspiration to uplift and inspire our communities to be connected. 
We're proud to be embracing 'tuatahi,' the te reo Māori word for 'first,' in our name to celebrate our position as a local company working at the heart of New Zealand communities. Like the Chiefs, we place importance on high performance, speed and coming first. 
ShadowTech
We are excited to be a sponsor of ShadowTech, a transformative initiative that aims to empower young women to explore the world of STEM (Science, Technology, Engineering, and Mathematics) and foster gender diversity within these fields. The sponsorship reflects our commitment to shaping the future of telecommunications while actively addressing workforce skill shortages.
ShadowTech's mission aligns perfectly with Tuatahi First Fibre's values of promoting inclusivity and encouraging the pursuit of STEM-related subjects. The initiative seeks to increase the number of young females who choose STEM disciplines at the secondary and tertiary levels, thereby unlocking a world of opportunities that were previously unexplored by many female students.
One of the highlights of the collaboration is the ShadowTech Day, where we hosted a group of enthusiastic female students. This immersive event provided these students with an exclusive "day in the life" experience, shedding light on the exciting career paths available within the telecommunications industry.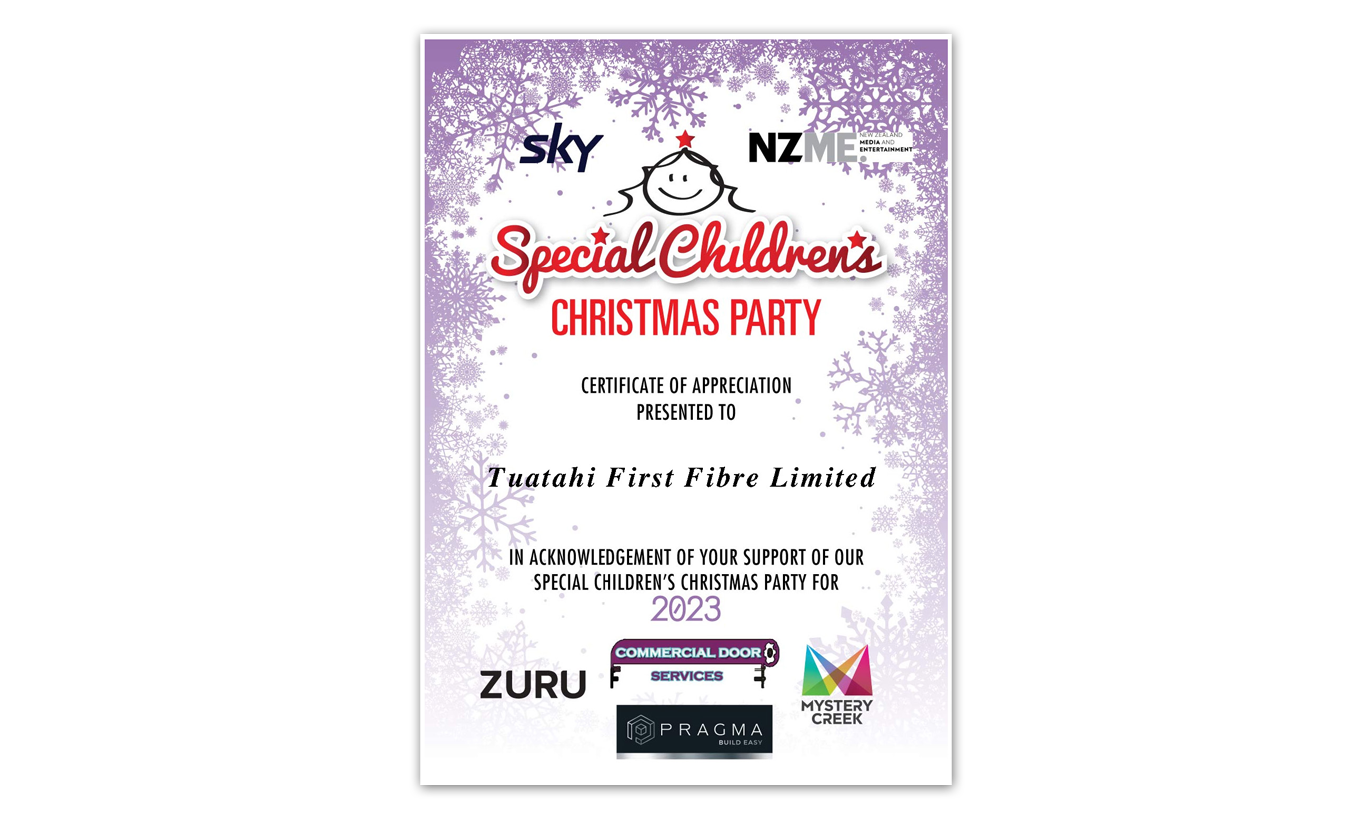 Special Children's Christmas Party
Every year in NZ, spectacular Christmas and extravaganza parties are hosted for special children who live with life threatening illness, physical or intellectual impairment, domestic violence, or in underprivileged circumstances.
At Tuatahi, we are dedicated to connecting communities and "access for all". This is why the Special Children's Christmas Party aligns perfectly with our values. The objective of the day is to provide a fun-filled day for children who face everyday challenges. The aim is to celebrate these amazing children and give them a platform where they can let their hair down for the day and focus on "just being kids". The day is all about them and up to 1800 children and their families from the Waikato & Bay of Plenty regions alone benefit from this special day. Every child receives several amazing gifts to take away as well as being treated to rides, games, activities, competitions and delicious food and treats.
We are so pleased to be able to support the 2023 Waikato and Bay of Plenty event and we look forward to seeing the smiles on these kids faces!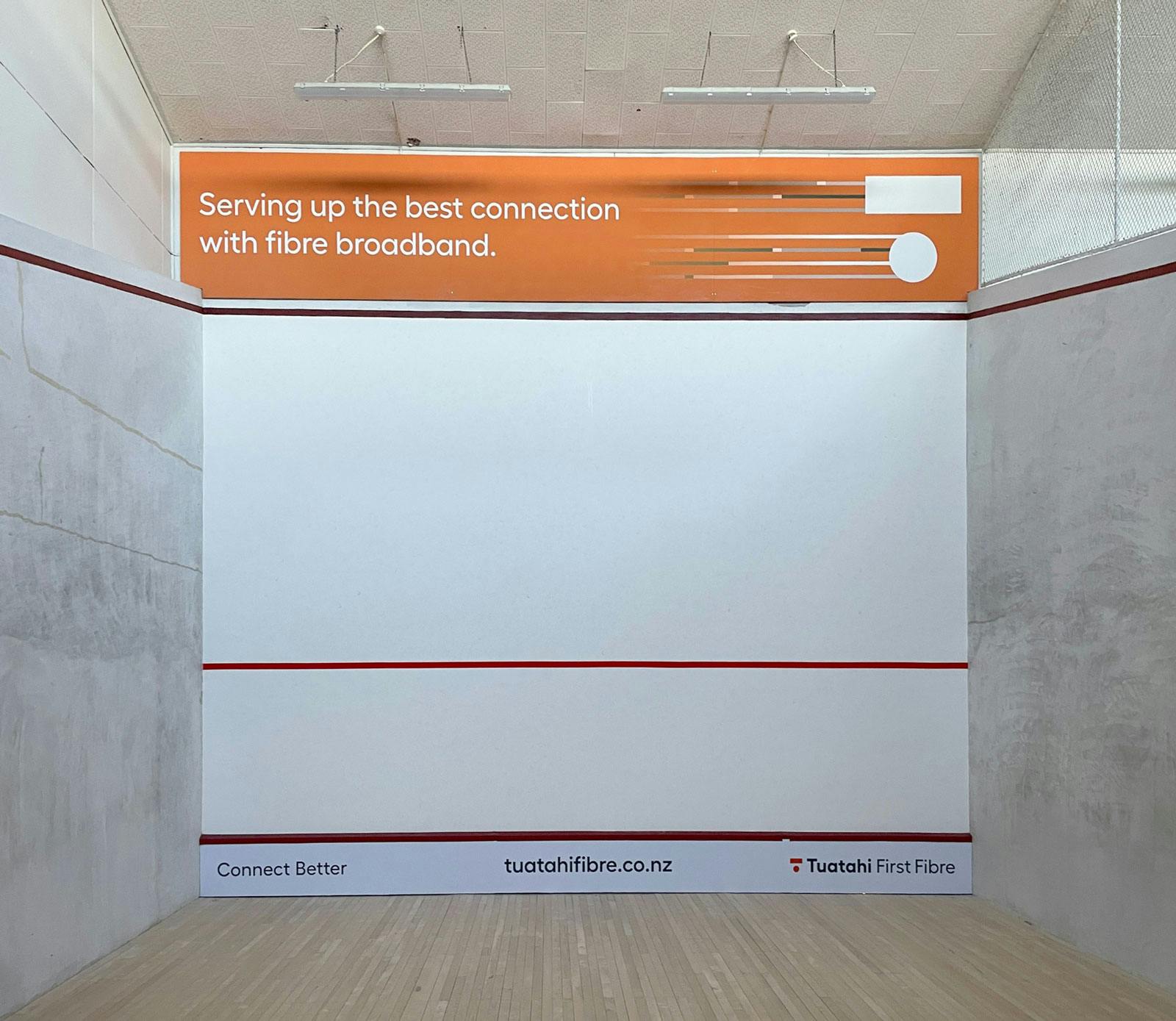 Te Rapa Squash Club
The Te Rapa Squash Club has been running since 2003. It's a two-court squash club run by volunteers, situated at St Andrews Park (with access at 78 Vickery Street) - just minutes away from our Head Office here in Hamilton.
Tuatahi First Fibre is proud to sponsor this local club including the "Tuatahi First Fibre court".

NZ Compare Awards
The NZ Compare Awards is an annual event that celebrates excellence and innovation in the New Zealand telecommunications, utilities, and finance industries. We are proud to be sponsoring the 2023 "Best Value Broadband Provider" award which will be awarded to an NZ Internet Service Provider who has provided the best value broadband service to consumers in the previous 12 months.

Rotary Charity Golf Day
We are proud sponsors of the 2023 Hamilton Central Rotary Charity Golf Tournament, and this year our very own team won for the second time!
The day raises over $12,000 which goes towards supporting various local initiatives such as youth groups, Grandparents looking after Grandkids, and Hamilton Central building projects including the proposed pedestrian bridge across the river in the CBD.
Awesome to be involved and supporting our local community.
Staff wellness and wellbeing
As part of Tuatahi's ongoing commitment to promoting a healthy and active lifestyle among our staff and giving back to the communities we operate in, we are thrilled to offer sponsorships to our staff members to support events or groups in our community that our staff are involved with.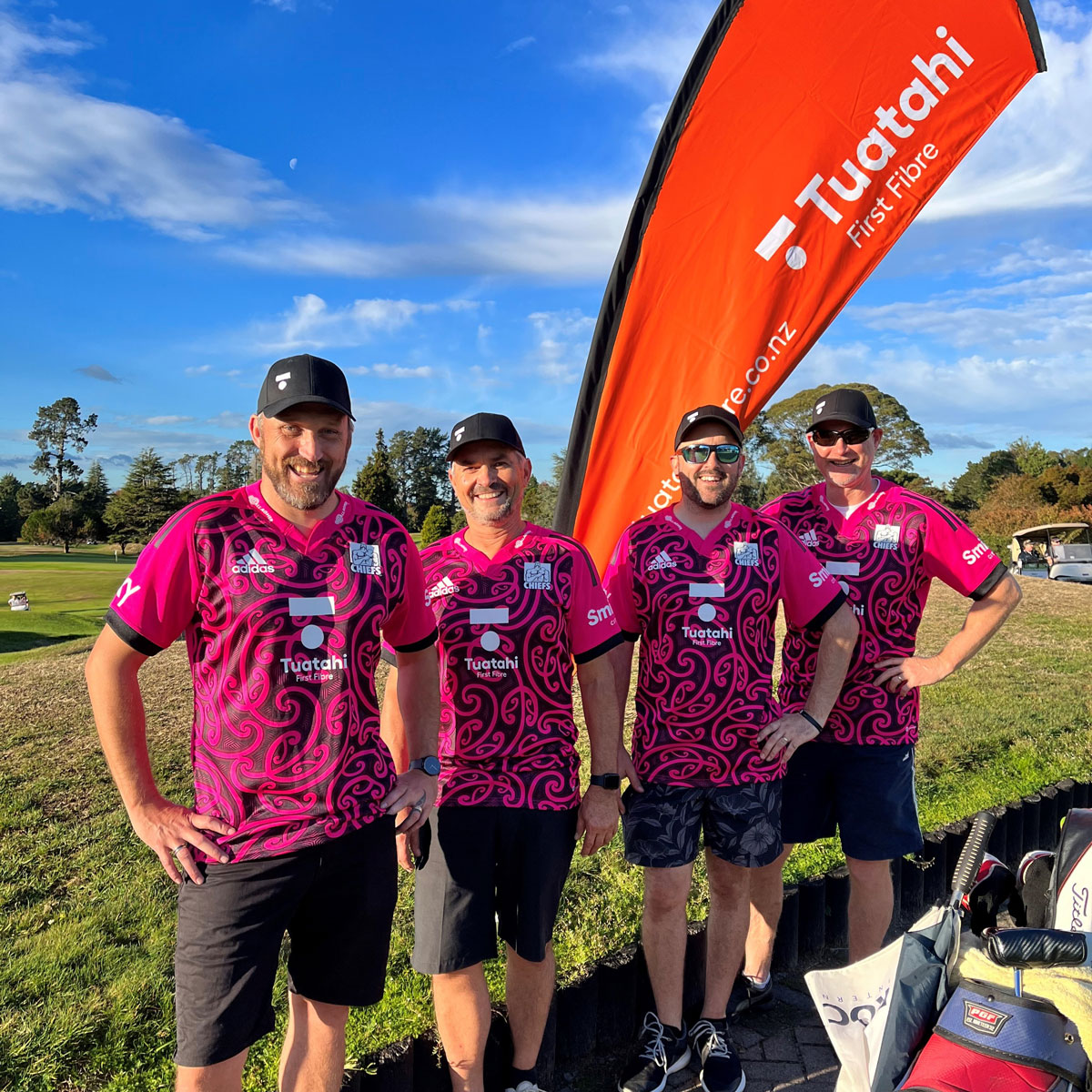 Rotary Charity Golf Day team
Not only are we proud sponsors of the 2023 Hamilton Central Rotary Charity Golf Tournament, we also sponsored a Tuatahi staff team of avid golfers. This year our very own team won for the second time running!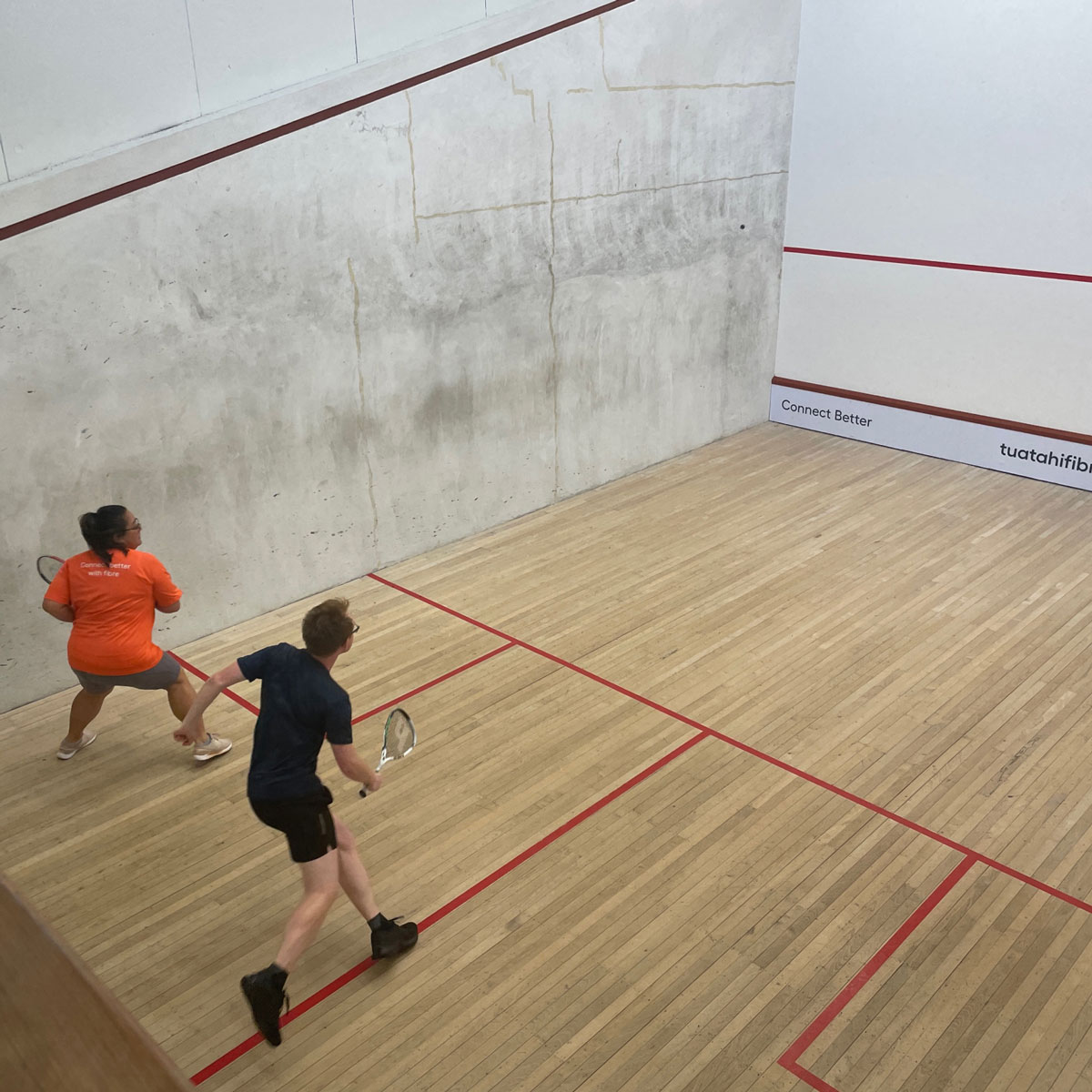 Squash Club memberships
In addition to sponsoring the Tuatahi First Fibre Court at Te Rapa Squash Club, we also sponsor a corporate membership so staff are all welcome to play and enjoy the benefits of playing squash whenever they like!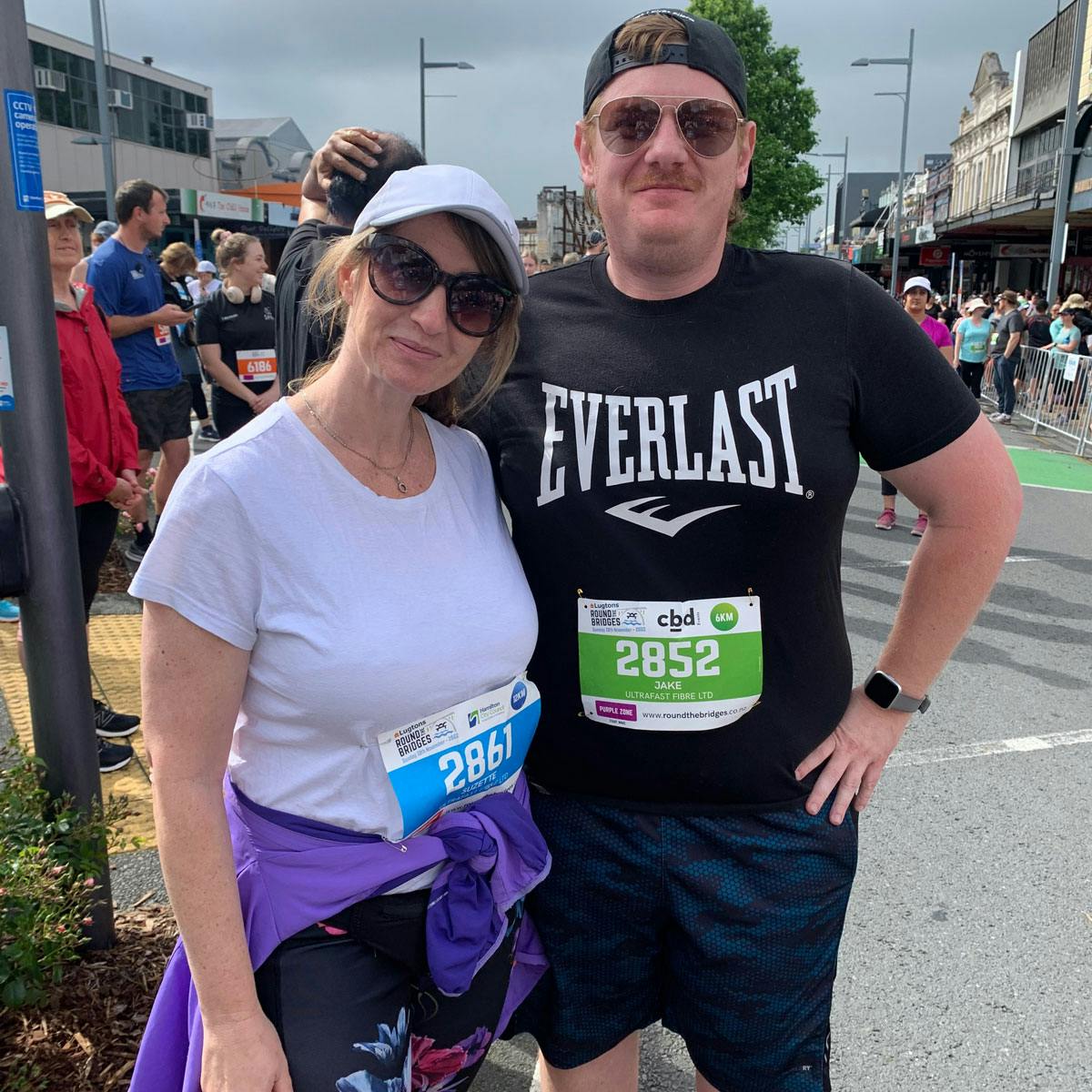 Tauranga – Mt Maunganui City to Surf Fun Run/Walk and Hamilton Round the Bridges
As a special sponsorship initiative, we have offered our employees the opportunity to take part in either the City to Surf, Round the Bridges or any similar type event. Whether staff are experienced runners, dedicated walkers, or simply looking to enjoy a leisurely stroll, these events have something for everyone. And the best part? We've got staff entry fees covered, making it even easier for staff to get involved.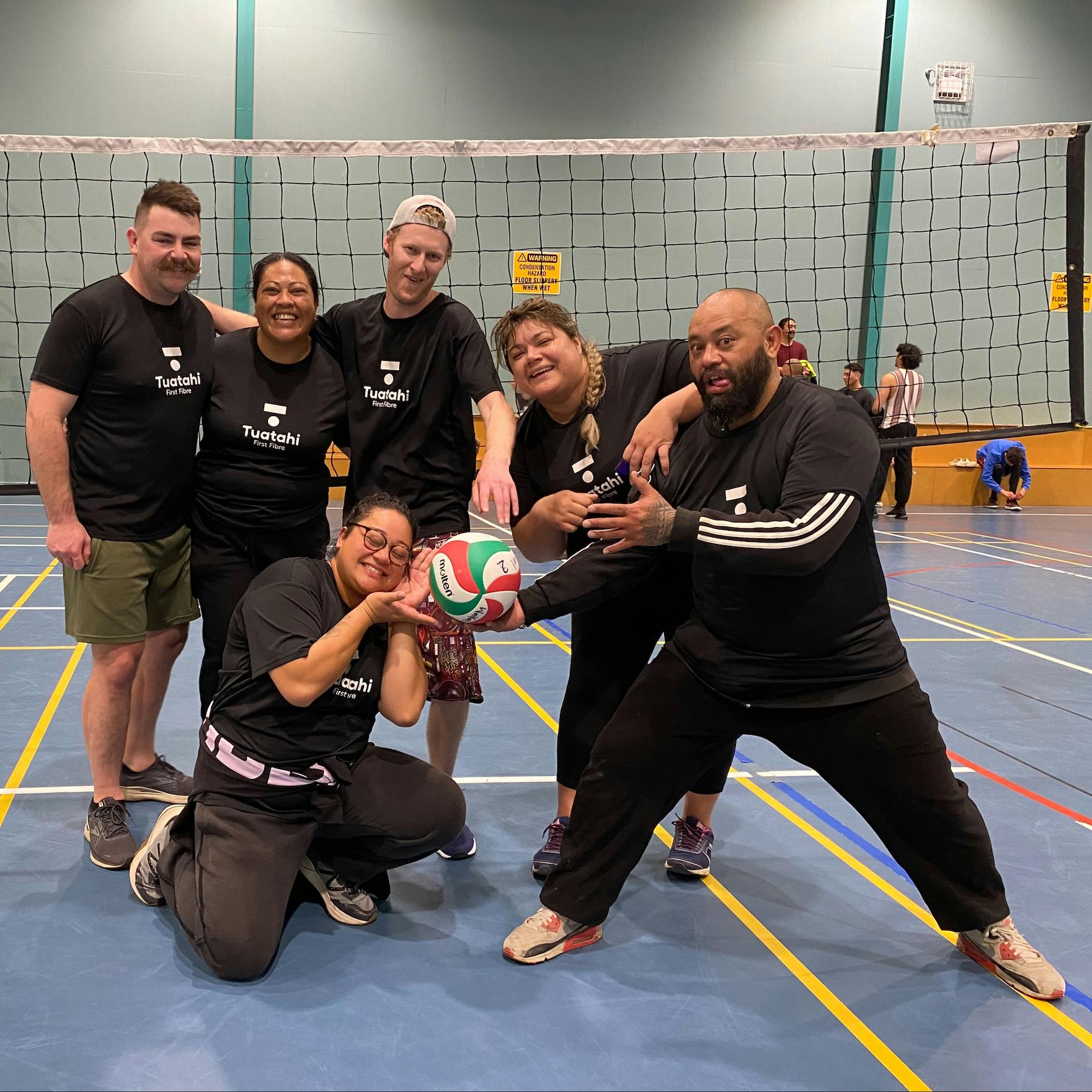 Tuatahi Volleyball team
We're excited to sponsor a dedicated staff volleyball team! The team includes current and former staff members and their whānau.
Every Monday night during school terms, they gather at the Te Rapa Sportsdrome, located in Ashurst Park, to play. With a whopping 15 years of history, the team has seen its fair share of changes, but the passion for the game and connecting and having fun with the wider Tuatahi whanau remains constant.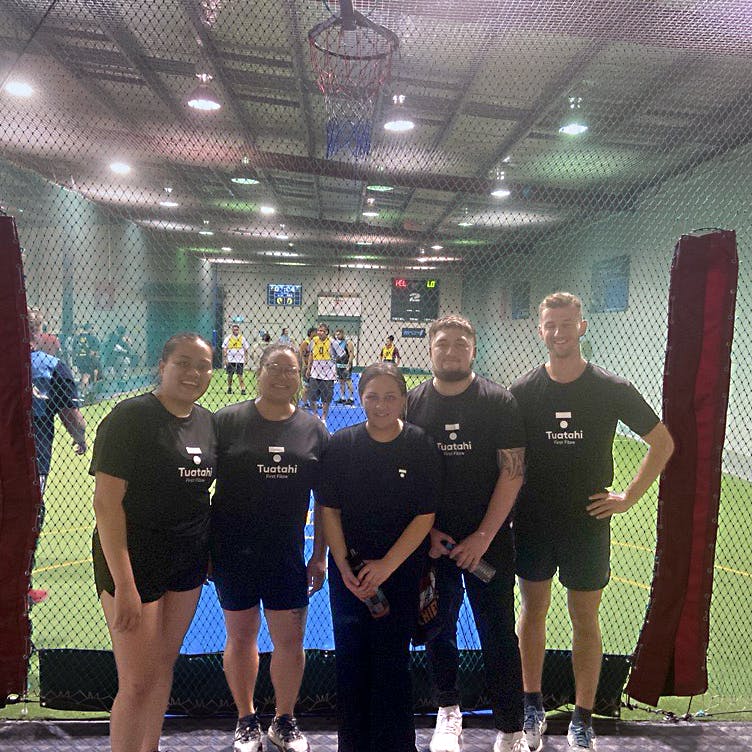 Tuatahi Indoor Netball team
Meet our Tuatahi Indoor Netball team, fondly known as 'Not Sure Yet.' Our team of enthusiastic, if slightly bewildered, staff members dove headfirst into indoor netball this year, not even entirely sure how to play! It was a comical start, but 18 weeks later, they have moved from 'not sure yet' to 'pretty sure,' even making it to the semi-finals in their very first season – a big win! The team can be caught in action every Thursday at Action Indoor Sports, in Duke Street, Frankton.
Sponsorship FAQs
Sponsorship FAQ
Sponsorship FAQ
Sponsorship FAQ