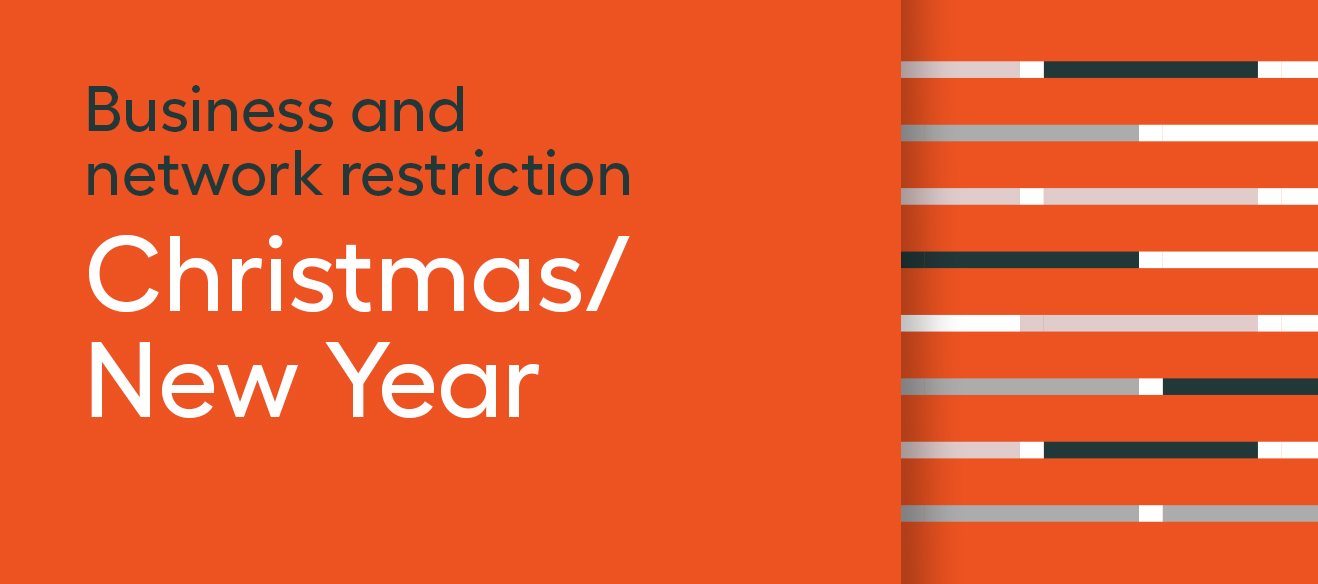 Business and network restriction: Christmas/New Year 2022-2023 
Over the Christmas and New Year period, a balance is required to ensure the ongoing integrity of the network as well as continuing to connect customers.  

To minimise unplanned outages causing customer impact, we implement a change freeze over this period, with restrictions on provisioning and network activities.

This safeguards network stability during a period of high customer demand, and ensures operational staff are appropriately resourced to respond to any network events that occur. 

Details of the restrictions being implemented over the upcoming holiday period are outlined below. 

Customer Care hours of operation 
From Friday, 23 December 2022 to Wednesday, 4 January 2023 our Customer Care team (previously Service Desk) will be closed for standard provisioning activity.  

Our office spaces will be closed to the public from 12 pm Friday, 23 December 2022 to 8am Wednesday, 4 January 2023. There will be limited staff access during this time. 
Core network restrictions 
a partial change restriction will be in place between 5pm Friday, 16 December and 12pm Thursday, 22 December 2022
a full change restriction will be in place from 12pm Thursday, 22 December 2022 to 7am Wednesday, 4 January 2023. 
During this time: 
we will not carry out network construction activity in Central Offices or on public property 
we will not perform any handover link changes and grooming activity 
all requests for access and works in Co-Location areas will be reviewed, with a stand-over enforced if we agree that the proposed works are essential 
we will observe any constraints imposed by local authorities within our network areas between Friday, 3 December 2021 and Wednesday, 5 January 2022. 
Network Operations Centre hours of operation 
Our NOC will remain in operation on the standard 24/7 basis during the entire period for fault monitoring, restoration work and any urgent provisioning work. 

More details
For more details, download a detailed overview of our operating hours and the network restrictions that will apply during this period. 

If you have any questions, please get in touch with your Account Manager.