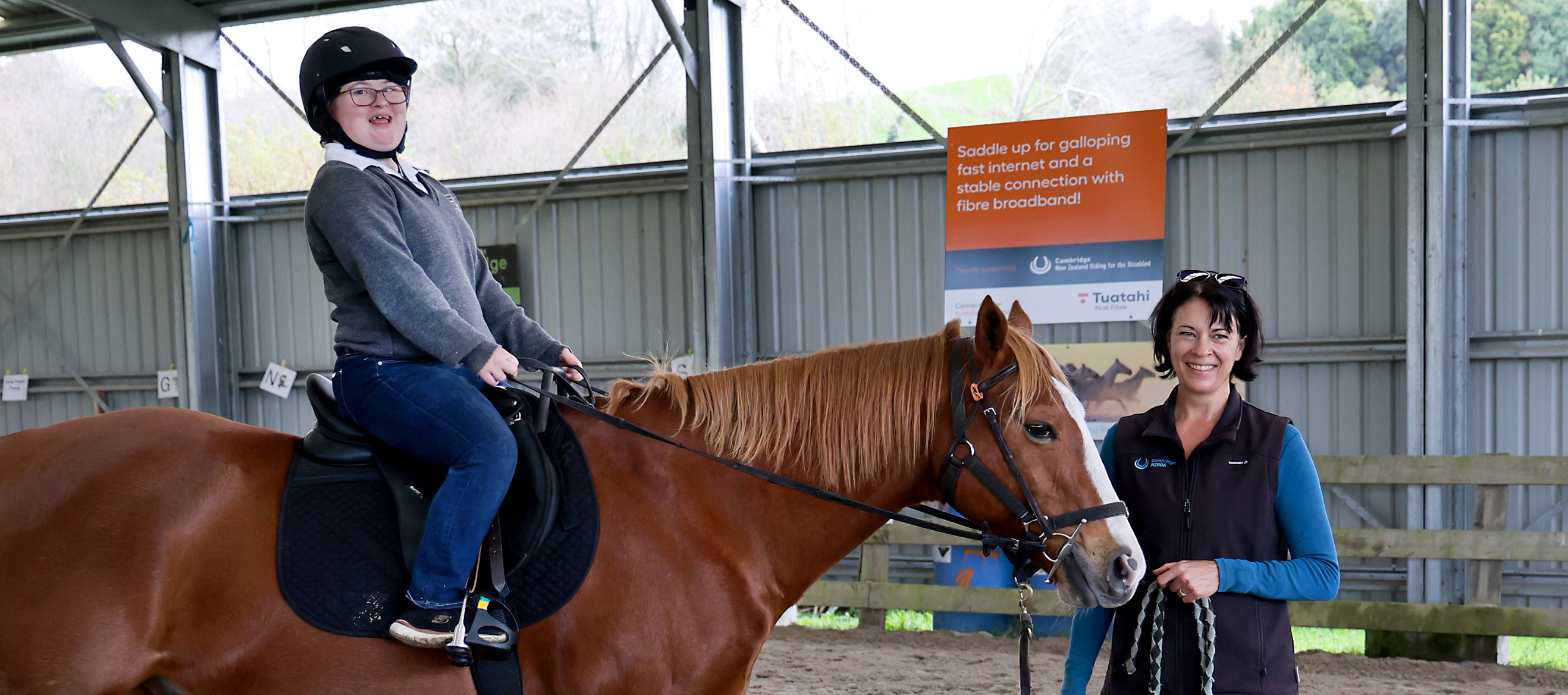 Tuatahi First Fibre has gone above and beyond to bring better internet to an organisation changing lives in Cambridge. 
Despite being just outside the reach of the fibre broadband network, Riding for the Disabled (RDA) Cambridge had been trying to secure a reliable internet connection for years.  
RDA aims to make a positive difference in local communities across New Zealand through interaction with horses to improve health and wellbeing outcomes for people experiencing disability or other challenges. 
With no copper infrastructure in place and poor cellphone reception, the charitable organisation's technology struggles were hindering their vital work.  
RDA receives no government funding so has to rely heavily on the community and grants to sustain the programme, which currently supports 60 riders. 
Vanessa Donnelly, RDA operations manager, said, "I had to rely on hotspot connections from my phone, which were often slow and unreliable due to the dead zone for signal in the area. It was really frustrating." 
However, Tuatahi stepped in to provide fibre broadband at no cost to the organisation. 
The path to bringing fibre broadband to RDA was not without its challenges. The location required extensive work, and the associated costs were initially prohibitive.  
However, Tuatahi, driven by their commitment to connecting local communities, took charge of the project and worked with their field partner Civtec to complete the installation without burdening RDA financially. 
Tuatahi's land access team worked with Waipa District Council to secure consent to carry out the necessary works. Once consents were in place, the team could move forward with their plans to connect RDA to the fibre network.  
To optimise efficiency, Tuatahi implemented a carefully planned design for the installation involving a combination of fenceline and underground works.  
RDA's fibre broadband connection is now up and running and the organisation is empowered to continue with their important work without being hindered by connectivity issues.  
"Since having fibre broadband, I can get work done quickly, with no downtime waiting for a connection or a page to load or an email to send," said Vanessa. 
The fibre broadband connection enables seamless access to training videos for the team and facilitates efficient communication and record-keeping processes. RDA can even now connect remotely with their arena watering system and security cameras using apps.  
"It has been a total game-changer!" said Vanessa.
Support RDA Cambridge by donating on Givealittle.