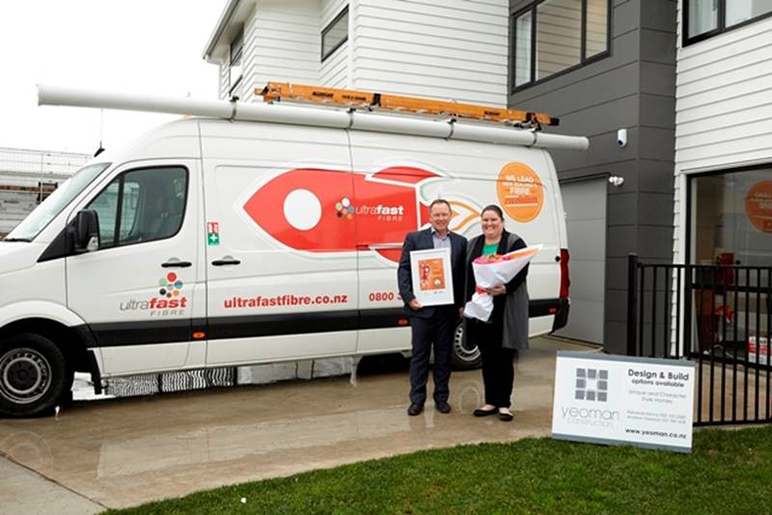 Ultrafast Fibre Limited (UFF) has today welcomed the 50,000th connection to its Ultra-Fast Broadband (UFB) network.
UFF Chief Executive William Hamilton says this achievement marks an important milestone for the Local Fibre Company (LFC).
"We are delighted to have achieved our 50,000th connection", he says.
"It reflects our strength as a trusted infrastructure provider and our continued work in laying the foundation for our country's digital future."
Mr Hamilton says an increasingly high demand for fibre saw UFF's connections double in the past year, with this number expected to double again in 2017.
"Our capacity is growing quickly," Mr Hamilton says.
UFF is New Zealand's largest LFC and over 200,000 end users are now able to access its UFB network, with another 200 connecting every day.
Business connections are a key focus of UFF's growth strategy as more New Zealand businesses opt to make the switch to fibre.
"Business customers make up around 10 per cent of our client base and that number is on the rise", MR Hamilton says.
"Increasingly, companies are signing up for UFB to make the most of benefits including improved productivity, reduced travel expense and better use of cloud computing services."
The 50,000th connection is for a new Show Home as part of the iconic 145-home Ridgedale housing development in Hamilton's north, designed by Yeoman Property Group.
All of Yeoman Property Group's residential housing and mixed-use developments are now designed and built with access to the fibre network. The Group also uses fibre in its internal business operations.
"UFB is definitely the best-performing product when you are looking at internet", says Yeoman Property Group Project Manager Rebekah Kenny.
"Fibre is also a selling point for our clients, as they see the advantage that comes from our developments having a fibre option or being fibre-only."
Mr Hamilton says Yeoman Group is a great example of how companies can harness the power of UFB to boost their business operations.
"All levels of business can reap the benefits of UFB, with easy access their customers and clients across New Zealand and around the world."